Big Apple Update!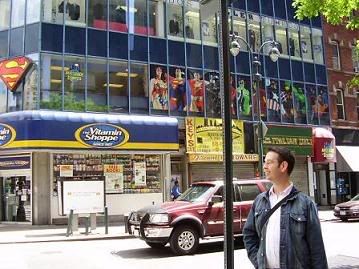 Well guys I am in the lovely city of New York and I have got to tell you New York is a very intimidating city but it's also absolutely amazing! I have already hit both Midtown Comics locations and Forbidden Planet both great locations. Midtown is particularly amazing with so many trades, comics, animation and statues that would make any fanboy squeal (believe me I was squealing).
I made sure to pass by the Mocca Museum but sadly I was told that there have been very little cancellations, so I am about 90% sure we won't get a table. We also will not be issued press badges, can you believe that? Still Charlie and I both plan on doing some interviews and spending all day the con meeting other podcasters not to mention any of our fans who will be attending.
To figure out whom we are just look for a big fat guy with a crummy Comic Makers T-Shirt (those shirt transfers are pretty hard to figure out).
I also wanted to take time out to thank everyone who has taken the time to send us e-mail it's been great. And also those of you, who are interested in buying our book, please know that I will do everything in my power to get you a copy.
Take Care,
Dave